Have you seen Pitbull's caffeine-infused "Energy Sheets" advertisements?
Walmart announced on Tuesday that they would send the Cuban-American rapper Pitbull to the store that received the most Facebook LIKES by July 15 (announcement is on 17th).
David Thorpe and Jon Hendren of Something Awful then started a campaign to #ExilePitbull to the most remote Walmart in America… ummm.. #2711 in "Kodiak Island"… near the Alaskan coast!
Right here!
And here is the screenshot of the action: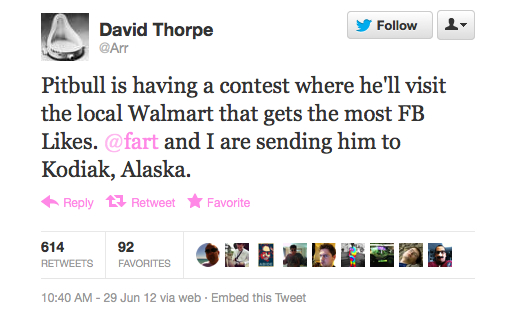 Can you guess what happened next?
The Walmart in Kodiak now has over 69,000 Facebook Likes – more than 10 times the population of the island.
Hilarious!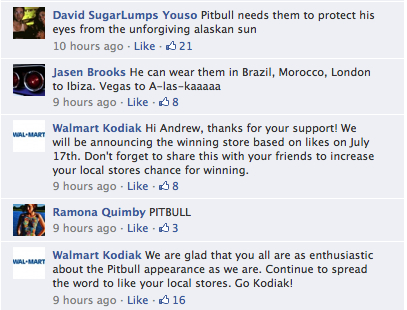 Fortunately, Pitbull has a good sense of humor, he invited David Thrope to join him:

He better hold up his end of the deal!
Cue music.. Brazil, Morocco, London to Ibiza.. Vegas to A-las-kaaaaa!